This is a
personal project
I worked on
prior to my time at Airbnb
out of a love for food and restaurants. You can check out highlights below or
read the full case study.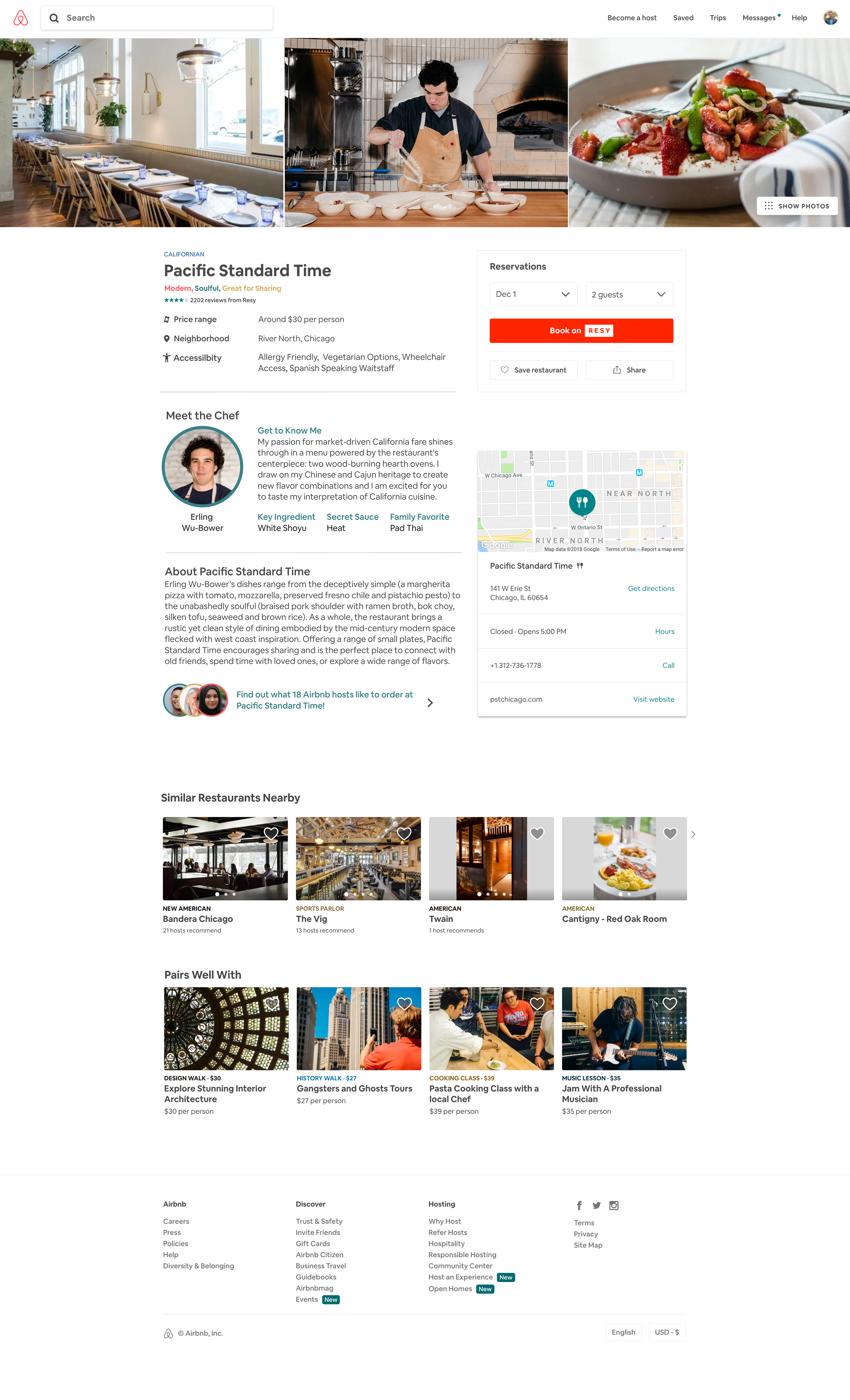 "Food brings people together on many different levels. It's nourishment of the soul and body; it's truly love."
-Giada De Laurentiis

As an avid cook and someone that is always looking to try new foods when traveling or exploring new cultures, restaurants have become an integral part of my immersive experiences. Everyone eats, and I feel that the activities of cooking and eating epitomize a culture of sharing, connection, belonging, and love. Behind every gourmet dish or hardy meal are a person and a story, two aspects that make culinary experiences so fascinating and rewarding. The way Airbnb has mastered the art of showcasing experiences is mesmerizing, and I am ecstatic to see how the world of restaurants can join the mix.
Just like the tang of a Riesling pairs with the creaminess of a sweet ricotta, finding a restaurant through Airbnb has the potential to complement and enhance a traveler's next adventure.
While Airbnb frequently and effectively cultivates a sense of exploration, humanity, and belonging for its listed homes and experiences through spirited stories about hosts, descriptive imagery, and straightforward, inclusive, and thoughtful informational architecture, the way the Airbnb website presents restaurants is somewhat inconsistent. The human element of cuisine could be leveraged more to tell the stories behind the food and allow users a better view into what their dining experience will look and feel like.
Solution - Layout, Chefs, and Accessibility
A revised content strategy and informational layout that (1) synthesize and frontload the most relevant information to users, (2) tell the story of the restaurant and chefs behind it, and (3) create a more accessible and inclusive experience for users.
Problem Identification & Revision 
After conducting my research, I divided the opportunities for revision I identified into three categories: Human Connection, Information Architecture, and Accessibility & Inclusion. That said I only think it is fair to give the following disclaimer:

Let me preface this by saying that I am aware that some if not most of the information on these pages is pulled from Resy, Foursquare, and potentially the restaurant themselves. I am proposing solutions based on the assumption that Airbnb has the resources, influence, and relationships to make the proposed changes to Restaurant content.

​​​​​​​​​​​​​​
Human Connection - Putting a Face Behind the Name of a Restaurant
Behind every restaurant exists a chef who is creating the very food that a customer will enjoy. For a brand like Airbnb that aims to focus on the humanity and diversity of its users, the world of restaurants presents a massive opportunity for displaying the human element of food. Every home on Airbnb features a picture and information about the host, yet the pages for restaurants lack the same human connection.
The things that make restaurants so incredible are the human minds behind them. A chef's creativity and empathy shine through in every dish they create. And just like booking a home on Airbnb's platform, going to a restaurant represents another medium of being welcomed into a person's domain. Therefore, I propose that each restaurant description include a section titled
"Meet the Chef"
that allows a prospective diner to get to know the person hosting them for their special meal. Including sections that encapsulate the human element of the culinary art like the chef's secret sauce and a favorite family recipe will foster a sense of connection and belonging for the user and enhance their experience. See the example below for one of my favorite chefs, Pacific Standard Time's Erling Wu-Bower.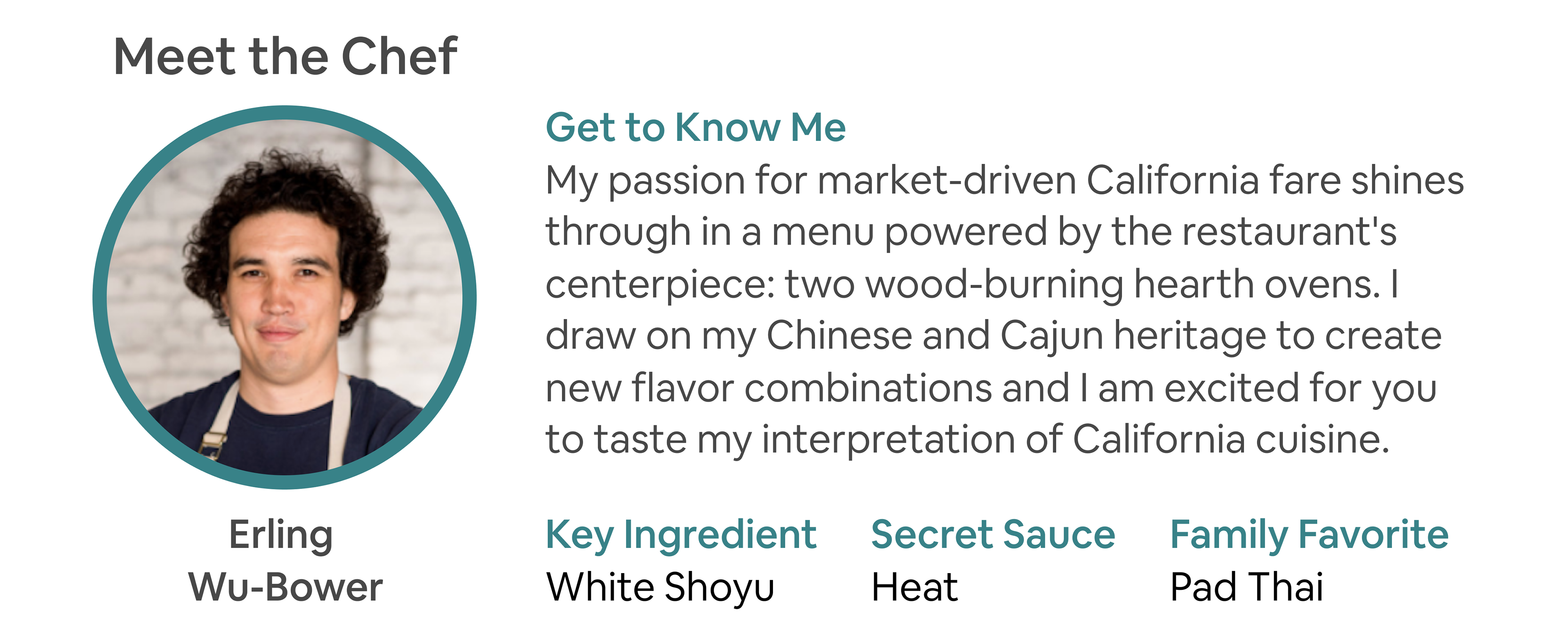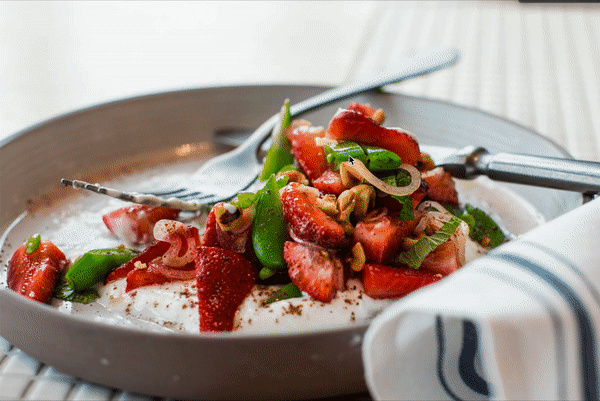 Information Architecture - Photo Captions
One of the first opportunities to improve content I noticed was that the pictures featured on restaurant pages on the Airbnb website do not have captions or alternate text. Food is a very sensory experience, and with that comes the importance of visuals. Take this picture on Pacific Standard Time's Airbnb page (left) for example. Without captions and alternate text, users will be left with no information about pictured dishes.This problem is especially true for visually-impaired users that may be using screen reading software. Without alternate text, the user will completely lose out on these pieces of content.
To solve this problem, I put together a sample caption for the pictured dish on the Pacific Standard Time page that can be seen when the user hovers over it. Alternate text for the image would read something along similar lines.
Information Architecture - Supplementing the Paragraph Format
It is extremely difficult to describe something like food as well as the ambiance of a restaurant with only a simple description. At the same time, every person that has visited at a restaurant has something to say about their experience. 
To supplement the inclusion of a brief written description, Airbnb can introduce two pieces of content that incorporate user-generated content. The first is the addition of three words or
descriptors sourced from analyzing user reviews
of the restaurant. This addition will lend insight to the user that may not be gleaned from reading a general description, such as if the restaurant focuses on small plates and tasting or family style dining. Second, is the introduction of
host recommendations about what to order
. If the restaurants on Airbnb are sorted based on the number of hosts that would recommend them, why shouldn't we encourage the hosts to tell users about the best meal they had at a restaurant! A recommendation from another human being fosters an even deeper connection than one generated by a computer.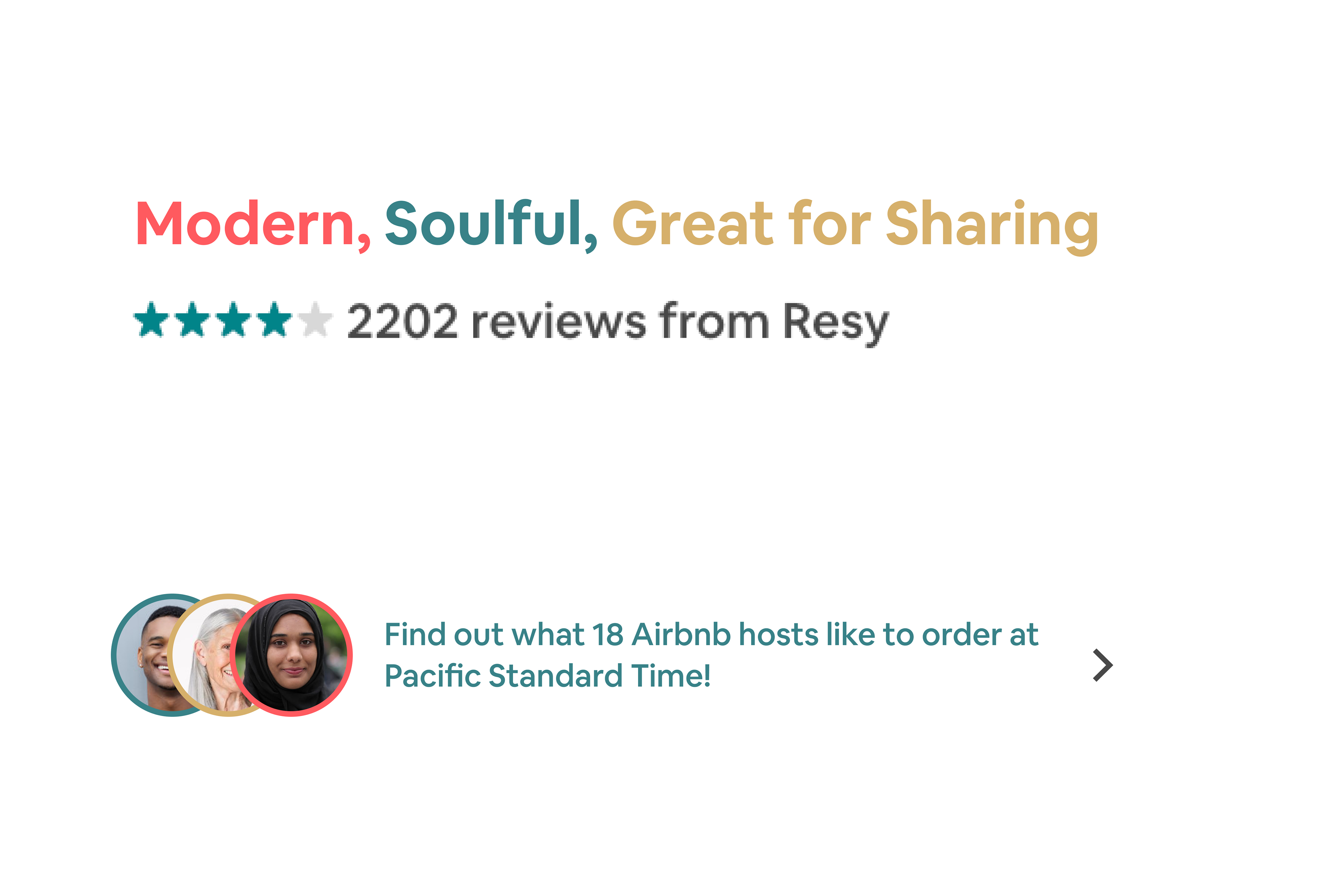 Accessibility & Inclusion - Including Accessibility Information
Airbnb's goal is to make everyone feel that they can "belong anywhere," and this is not possible without incorporating accessibility content into restaurant pages.
Including information about how a restaurant accommodates all types of diverse customers is crucial to fostering a sense of belonging for users of this product and creating consistency across the Airbnb brand. Accessibility doesn't just refer to physical access. Airbnb users looking for restaurants may have a dietary restriction or language barriers that could prevent them from enjoying their experience if left unaddressed. Thus I feel that it is just as important to include this information in the first paragraph of the page alongside other differentiating details like price and location.