Overview
About the project
FoodFinder
is a safe, secure way for food insecure children and their families to find free food assistance programs quickly. In doing so, they are seeking to create a mobile app experience that streamlines the process of connecting people in need with free food assistance resources.
Background:
 The FoodFinder was looking to improve its mobile app user experience after a round of fundraising.
The solution:
New features such as educational content for user onboarding and a search functionality that allows users to get connected with the resources they need, as easily as possible.
My role:
User Research, User Experience Design, User Interface Design
Design Analysis
Examining potential problems and opportunities for improvement
In looking to redesign a a basic app like FoodFinder, it is important to consider the balance between simplicity and features. While the app may be missing some key functionality, adding new complexites to app that is supposed to streamline the flow of information may not be worth it. Thus, it is critical to challenge the app's old design by asking key questions.
Key Questions
1. Can a new user learn how to navigate and use FoodFinder effectively without any explicit instructions or onboarding?
2. Is search functionality necessary to accomplish the user's job(s) to be done or does the user only need resources near their current location?
User Research

Research process
After learning about FoodFinder's customer base, I took the time to acquire information on typical users of the app. Unfortunately I did not have a great way of directly connecting with end users of the app, but through interviewing the FoodFinder team and doing external research on food assistance resources, I was able to create a persona of the typical FoodFinder user.
User Persona
While the vision for FoodFinder is to be an all in one platform for both people seeking food assistance and first responders to hunger (teachers and social workers), this project was specifically focused on the former who make up the majority of users.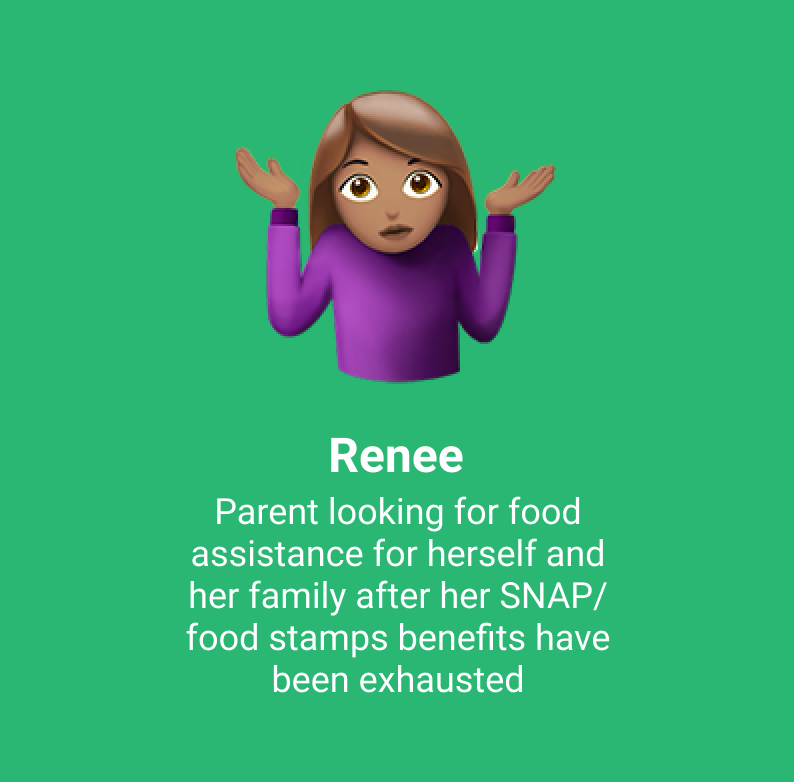 Renee's Story
Michelle is a 32-year old single parent of two young kids in the greater Atlanta metropolitan area. She and her family rely on government assistance to supplement her income in the form of SNAP and food stamps. While these programs are certainly beneficial to her and her children, the aid does not always cover the family's needs for the entire month. Thus, Renee is looking for a way to find free food assistance resources in her local area, as well as what she needs to provide to obtain that assistance. Given the demands of working and raising her two young children, she doesn't have time to seek out a third-party to help her locate these resources.
Research Insights

Isolating key pain points
From the interview process, I was able to distill my research into a few key observations:
1) Users that are not necessarily familiar with mainstream mobile application symbolism struggle to use the app for the first time
2) Users that change locations frequently were unable to easily to find food assistance resources in other places prior to traveling.
Design Opportunity 1
Introducing a user onboarding sequence
While the FoodFinder app aims to be the simplest way to find local free food assistance resources, the bare-bones feel of the app leaves some new users yearning for more instruction.
For users that are not familiar with other location based applications such as Google Maps or mobile app symbolism in general (such as pins representing locations), the lack of how-to information app may render it ineffective. 
Additionally, more and more apps are starting to introduced onboarding sequences in an attempt to empower first time users with the information they need to sucessfully navigate and utilize the app.
One of the sequences I really admire for its ability to smoothly deliver content while remainign simple is that of Bird, a sample of which can be seen below.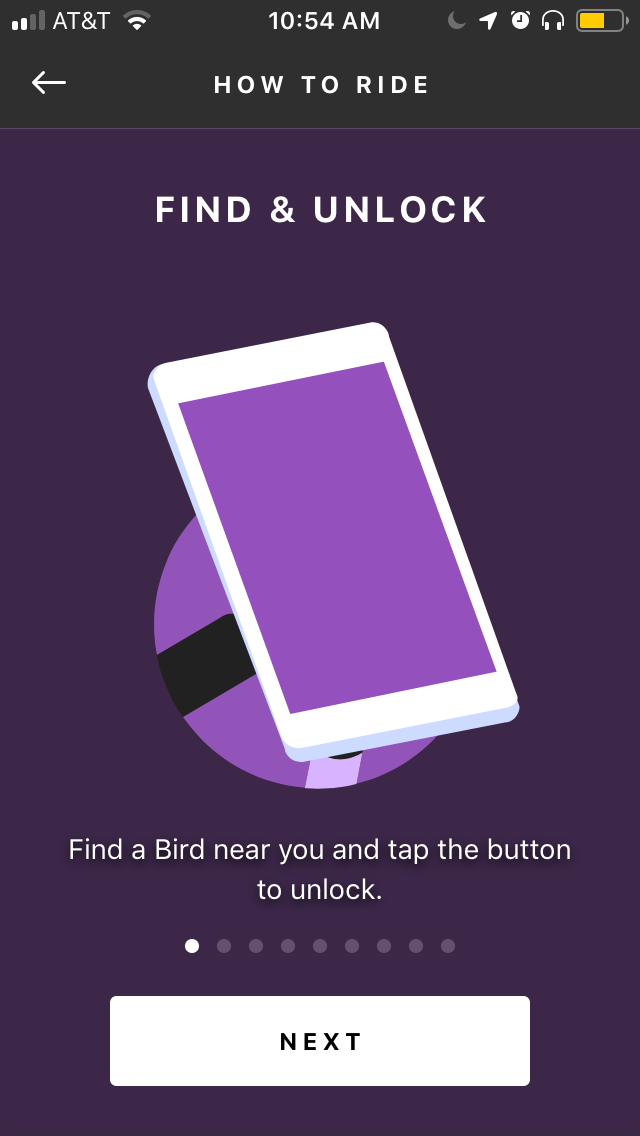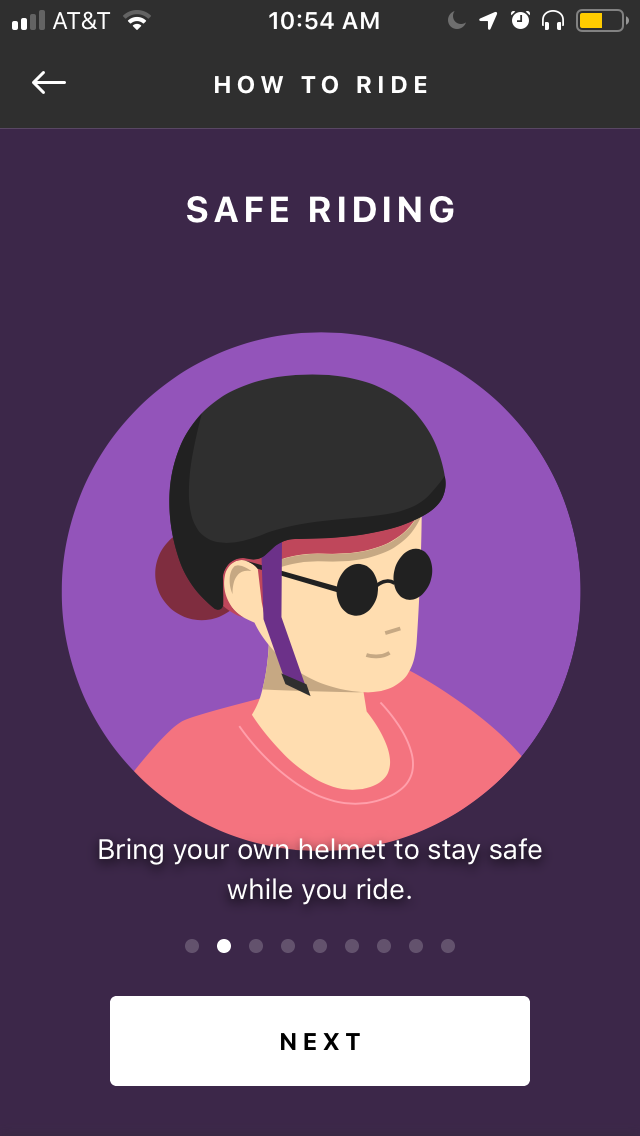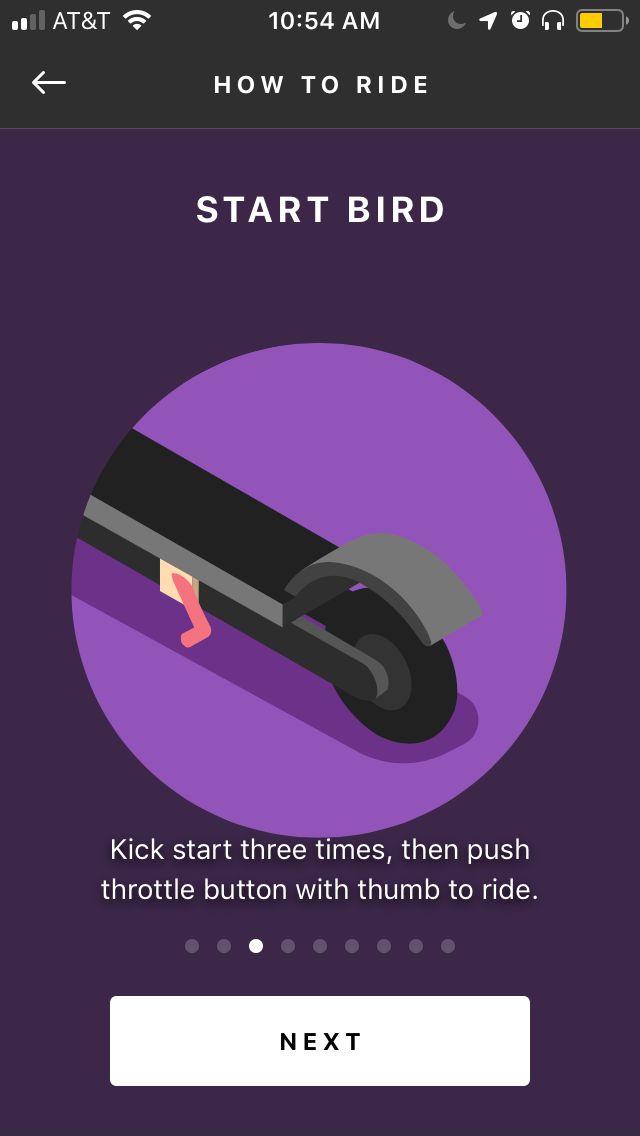 Drawing inspiration from Bird and other apps, I compiled my own onboarding sequence and educational content to teach new FoodFinder users how to use the app. Rather than designing some involved illustrations for each screen, I chose to stick to basic icons to retain the simplicity of the app.

Design Opportunity 2
Adding search functionality
People are always on the move, and FoodFinder users are no exception.
By limiting free food assistance results to merely the facilities around the user's location, the app is preventing users from being able to food plans in advance if they are changing locations. This can be a huge pain point for people that are between residences or do not have a reliable housing situation otherwise.
For this reason, I wanted to suggest that the FoodFinder team introduces search functionality. This feature will allow users to better plan how they will access and take advantage of free food assistance resources so that they can take care of themselves and their families.
Search functionality will also allow users to eventually search for resources and facilities based off of each program's requirements, such as presenting government photo ID or a child's report card, once the FoodFinder team has a better database of this information.
I wanted the search functionality to feel as simple as possible for new users of the app. While local results are usually the most pertinent to a FoodFinder user, I wished to create a user experience that also allowed a person to search for resources in other locations. There seems to be a sizable debate in the design world over whether to hide search bars behind an icon or button or not, but based on my personal prioritization of simplicity, I elected to provide access to the search bar through the magnifying glass icon. Screenshots of the search flow can be seen below.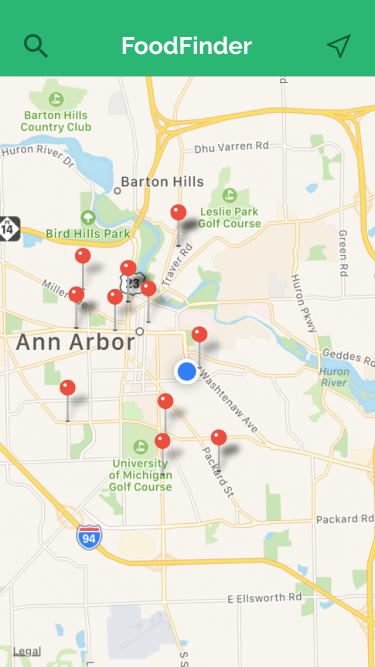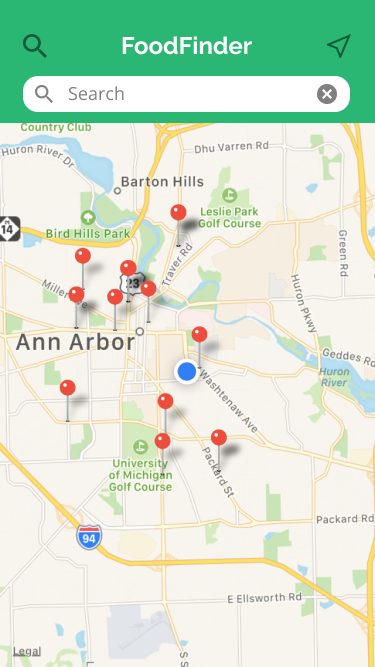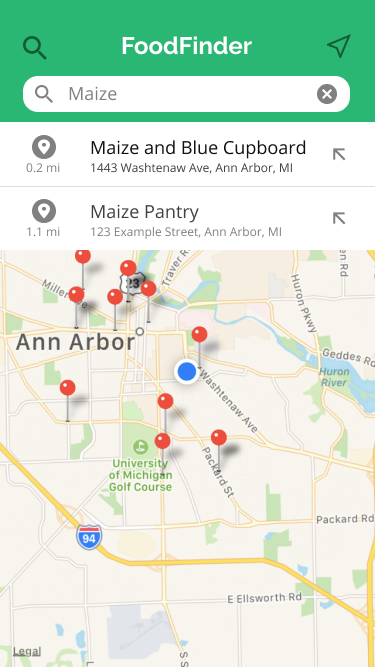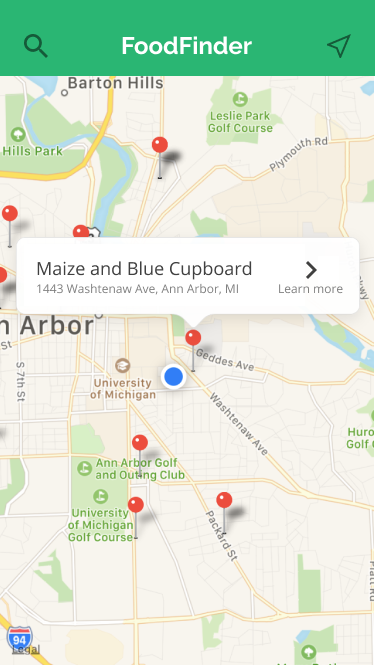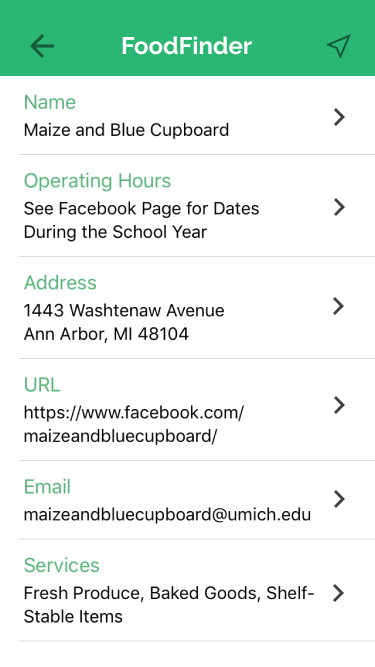 Recap
Let's review the motivating questions that drove the research and design processes for this project.
1. Can a new user learn how to navigate and use FoodFinder effectively without any explicit instructions or onboarding?
2. Is search functionality necessary to accomplish the user's job(s) to be done or does the user only need resources near their current location?
Both hypotheses were supported by my research. Through my ability to quickly confirm the hypotheses and the FoodFinder team's transparent vision for their product, I was able to quickly and successfully deliver a mockup of the second version of their mobile app.
This new version included a new menu, onboarding sequence, and search functionality, in hopes of relieving some of the customer pains surrounding not knowing how to use the app and not being able to find food assistance resources in other locations.
Looking Forward
Prioritizing Accessibility
While I definitely thought about the accessibility consequences of my design choices after my redesign of the app, I believe that I could be more successful in the future prioritizing accessibility on top of simplicity. While the search feature is great for many, visually impaired users will still face the same problem of being unable to locate food resources in other locations. Additionally one thing I am trying to get better at is being cognizant of color contrast ratios with respect to colorblind users. (I occasionally use
this website
to make choices on colors, and I think that I should begin to use it to create more accessible interfaces.