Email encryption is complicated and SaaS support is hard. So how can we create a customer onboarding and support experience that reflects a user-oriented and security-focused brand while still maintaining efficiency with a small team?
Background:
For 8 weeks, I helped Virtru improve its post-sale user and support experiences for its customers and end-users through redesigning processes and recrafting its support content and brand.
The solution:
A newly aligned customer onboarding and customer support flow, brand, and strategy that leverages Zendesk Help Center content to deflect simple tickets, leaving time for agents and Customer Success Managers to address larger, more significant issues for customers.
My role:
User Research, Customer Experience Design, Content Strategy, and Creation, Brand, Voice & Tone
Design Analysis
Examining potential problems and opportunities for improvement
In looking to redesign a customer onboarding experience, it is important to consider what potential problems customers and end users (these may not be the same, especially for a SaaS product) might face when completing the process as well as opportunities to improve existing processes. In redesigning a system, it is both about relieving the customers pains as well as creating new gains. Both the opportunities for refinement and improvement present area for exploration and thus should be challenged by asking key questions in the form of hypotheses.
Hypotheses
1. Is there any friction in the current process that affects the customer experience? What changes could be made to make the process more valuable or efficient for the both the customer and the Virtru team?
2. Is the customer onboarding experience inhibiting admins and end users from setting up and maintaining Virtru?
3. Does the support experience reduce the headache or struggle of troubleshooting problems or does it create a different type of stress?
Identifying who I am solving for
After learning about Virtru's customer base, I took the time to observe and interview stakeholders relevant to the customer onboarding process. These stakeholders included salespeople, customer success managers (CSMs), deployment engineers, agents on the support team, and customers themselves. During this time , I was able to establish who the most relevant groups are on the Virtru end regarding the onboarding process, as well as the types of customers and users that Virtru normally dealt with.
Customer base and use cases
I was fortunate enough to follow several new customers throughout the entire sales and onboarding processes, where I was able to learn what their needs were as well as what type of interaction they expect with Virtru during the onboarding process.
Companies ranged in size from two people to thousands, in industries such as healthcare, education, and financial services.
For the sake of privacy, I will refer to the medium-sized, East Coast-based healthcare company as ABC Health.

Peggy's Story
Peggy is a 35-year old IT administrator at ABC Health, where she manages information systems for the entire organization of around 50 employees. Members of the ABC's executive team were concerned about maintaining HIPAA and other compliances while transferring sensitive medical information.
Peggy is currently managing a lot of different technological projects as ABC looks to migrate to the digital age, and

thus
doesn't have a ton of time to regularly be in contact with SaaS software vendors. She also wishes to try to resolve problems internally before escalating to the vendor's support team.
Peggy and ABC use a Microsoft Outlook environment for email, and would like a way to submit tickets and have tech support conversations over email.
Dr. Naman's Story
Dr. Naman is a 42-year old doctor and healthcare professional at ABC Health, where he tends to hundreds of patients each month. He frequently sends records and communicates with other doctors and staff at ABC about patients' medical information. With the organization's new focus on data privacy and various health information compliance standards, strain is put on Naman to ensure that he is being extra careful in exchanging information with other employees and patients.
Dr. Naman is seeking the most simple way to encrypt emails containing sensitive information, and would like the onboarding and support customer experiences to be as easy-to-use and seamless as the software itself.
Michelle's Story
Michelle is a 29-year old patient of Dr. Naman at ABC Health. She is not an employee of the company and does not have Virtru installed, thus she is just looking for the easiest way to access the sensitive medical information sent to her by her doctor. She doesn't want to have to spend time completing a drawn-out, high-touch onboarding process and if she encounters a problem,
she wants to be able to find the solution on her own without needing to contact ABC Health or Virtru support.
Research Insights
Understanding and solving people's problems
After speaking with users from ABC Health was able to identify the following personal points of friction:
- Peggy wants the onboarding process to be personal at first, but then wishes to be able to  troubleshoot on her own or get via email
- Dr. Naman wants the onboarding process to be as seamless as the Virtru software itself.
- Michelle wants to access her encrypted files and messages without needing assistance from an individual from a third party
Additionally through talking to the Virtru team as well as other customers, I observed a few other points of pain and inefficiency in the process. One of the most notable involved the master PDF documents that were sent out by salespeople and CSMs after a customer signed a contract. The PDFs being sent out varied in content and quality, and were not shared between members of the customer success team. Virtru employees emphasized a desire to share and centralize information for this document, as it often ended up in the hands of end-users by ways of the customer admin.
Validating these problems
The Virtru team was still relatively small at the time, so gathering the opinions of all of the employees that touch the customer onboarding process was not difficult. I collected information from customers in two ways:
1. Sitting in on customer calls at various points in the process with CSMs and support agents and directly asking customer's about what we could do to improve their experience.
2. Asking for feedback once customers and end-users had support tickets resolved in Zendesk.

After doing some research on other companies best practices and getting some advice from my manager, a long-time customer success veteran who has done support at several other tech companies including Google, I reached the following conclusion.
To meet the customer's minimum expectation for service they have to feel heard and understood. To go above and beyond, like companies such as Amazon, and Intercom, the customer must also feel cared about.
This sort of idea is similar to Simon Sinek's "Golden Circle." Knowing what you have to do to satisfy the customer's needs will get you out the door, but knowing how to do so while showing understanding and care is a differentiator. On top of this, knowing why your team places importance on customer experience develops a strong and congruent brand and only further differentiates your company.

Revamping Help Center Content and Creating Self-serve Resources
Every friction in the customer onboarding and support experience ultimately leads to more support tickets for the Virtru agents. Thus while the main goal of this redesign is to improve the experience for the customer, we can also measure success through the number of tickets the support agents receive.
One of the most common points of friction for customers is the lack of organized, accessible, self-serve support and troubleshooting resources.
Similarly, one of the biggest time-wasters for agents is answering simple tickets that whose solutions could be explained in a static help article.
These pains both pointed us towards the same design solution: create a knowledge base that would house all relevant static help content for customers and end-users, both old and new.
Developing this resource would allow customers to have greater autonomy in supporting their organization, and would lead to less trivial tickets if users could be redirected to existing how-to articles with screenshots and videos. Applying Google Analytics to the Help Center would also allow us to identify the most viewed help content allowing us to better meet our customers' needs.

Redesigning First Customer Interaction and Master PDF Onboarding Document
Looking at the process flow diagram for Virtru's onboarding experience I had constructed after conducting my user research, the first chronological point of friction surrounded the CSM's first point of contact post-sale with the customer. Normally this took place via email once the VP of Customer Success assigned the new account to a CSM, which at the time was done in an alternating manner. (Since then the CSM team has grown, customers are now assigned primarily by ARR) It was then the duty of the salesperson to CC the correct CSM on their final sign-off message, and the customer would then fall under the responsibility of the CSM. The CSM then would craft an introductory message, with instructions to set up an initial videocall/screenshare session, as well as a PDF containing links to relevant how-to articles and frequently asked questions (FAQs).
While the handoff from Sales to Customer Success was not much of problem, a good deal of friction occurred during the initial week or so of onboarding.
Beyond the initial call and the PDF document in need of revision, there was no formal outlet for customers to check in with their assigned CSM and get the help they needed.
After the initial conversations most questions got funneled to the Zendesk Support Center in the form of tickets. While customers generally wanted an option for self-service in regards to troubleshooting problems, face-to-face or verbal communication seemed to be important and valuable in the initial stages of onboarding.
From this observation I decided that we should 1) give the customer the option to schedule weekly or biweekly check-ins with their CSM after the initial contact and 2) revamp the onboarding PDF so that only the most relevant content to end-users appeared, allowing admins to pass on the document to their company's employees as a sort of "user manual."

Improving Overall Support Brand, Voice & Tone
The prospect of creating a robust self-serve knowledge base/Help Center and revising much of the support content also presented the Customer Success team with an opportunity to establish a strong tone & voice for our customer service brand, one consistent with that of the rest of the company. As referenced by Dr. Naman from ABC Health,
we wished to devise a support experience as easy-to-navigate and seamless as the software itself. To reach this goal, a brand consistency was needed for the Virtru team across the entire lifecycle of the customer.
The brand the customer sees and feels in our marketing materials should bleed into the brand of their sales experience, which should flow into a consistent support tone & voice. To achieve this, agents need to maintain similar values and language across all mediums of communication, in static writing, over email, and in person. I believed that if we one idea and feel of what it means to interact with the Virtru team, we could limit the transitional culture shock and create a smoother experience for customers.
Redesign Process
Opportunity 1 — Help Center Content
This was by far the most labor-intensive opportunity to improve. All of Virtru's existing help content lived under the FAQ category of their marketing website, with only a few articles existing on Zendesk. Due to the volume of content (over 200 unique articles) featured on the FAQ page, I knew that I needed to be strategic in migrating, consolidating, and revamping content. Thus, I utilized page visit data from Google Analytics to determine which articles were receiving the most attention and from what other pages users were arriving. I then added in error event data from Amplitude and considered feedback from the support agents and product team to develop a relevancy score. It is with this relevancy score that I decided which articles to scrap or archive, and which to give the most attention when revising. Articles that were on-deck to be written also received a relevancy score, helping the support team decide which content to draft first.
The revision process for the help content was composed of 4 parts:
1) Update the title and tags (for search and SEO) of the article
2) Check the content of the article
3) Update any screenshots and videos
4) Ensure consistent brand, tone & voice*
Over the course of six weeks and a few Shake Shack-fueled late nights in the office, my tiger team of people from the product and customer success teams and I managed to push 50 articles through the four-step process to completion. While this doesn't seem like a lot, it gave the customer success team a new self-service support resource that they were proud to share with customers. After the end of my internship, the tiger team continued to plug away at the remaining articles, with each new piece of content contributing to a cleaner and smoother customer onboarding experience for admins like Peggy and end-users like Michelle.
*For more detail about step 4 of the revision process, see Opportunity 3
Opportunity 2 — Onboarding Email and PDF
With the self-serve Help Center content up to date and looking presentable to customers we were ready to tackle the second point of friction and opportunity for improvement by making the following changes:
- Give the customer the option to schedule weekly or bi-weekly check-ins with their CSM after the initial contact.
- Revamp the onboarding PDF with the most relevant content to end-users, allowing admins to pass on the document to their company's employees as a sort of "user manual."
I was able to execute these changes through meeting with the CSMs to develop canned response templates for their initial emails to customers. The email content we created was much more friendly and personal and featured a personal blurb about the CSM. This addition was made in hopes of reminding the customer that they have a human advocate on their side who understands the frustration of learning new software, bleeding into our overall brand strategy.
The email also gave the customer a choice on the frequency of follow-up check-in calls they would like, giving them the autonomy to set the tone of the relationship before the initial call. The last thing left was the revamped PDF of how-to's and FAQs, which provided a playbook for customers to use or share if they elected to take a more self-sufficient approach to troubleshooting.
Playing off of our newly updated and revised Help Center articles, we selected only the most common and crucial self-serve articles (taking into account the relevancy score as well as CSMs' knowledge of the most common onboarding issues) to compile into the master PDF document, which we tweaked into half a dozen different buckets customers could fall into based on their email setup (Outlook vs. Gmail), size, and other factors. In allowing the customer to choose the type of onboarding experience they received, we could finally match the diverse customer demographics and use cases to which Virtru caters.
The changes to the initial email and PDF immediately started to pay off, as it provided three immediate benefits:
1) Gave customer admin a list of problems and frequently asked questions to expect as well as the relevant content to resolve them appropriately
2) Created an invaluable resource for new CSMs needing to learn the most common problems faced during on-boarding and potential solutions.*
3) Drove more users to our self-serve Help Center content, both giving us better data on traffic and the quality of our articles through a "Was this article helpful?" widget, and deflecting tickets from our support team.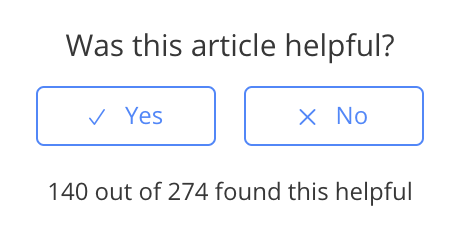 *This benefit was a complete bonus! I hadn't even considered the utility of the PDF as an internal training mechanism during a period of high-growth and hiring!
Opportunity 3 — Support Brand, Voice & Tone
Virtru prides itself on prioritizing security while still making email encryption as easy and painless as possible for the user. While this branding was apparent in the products UX/UI design and the way that the sales and business development teams pitched the software, Virtru's support content seemed to have missed the memo. While there was nothing particularly negative about the way content was phrased and presented by the support team (the support team maintained an average customer satisfaction score above 80% for the duration of my summer), things just felt disconnected across the omnichannel support strategy.
After sitting down with the team and analyzing some help center articles and agent responses to customer support tickets, I recommended that we generate a Virtru Style Guide. I was confident that an internal style guide would ensure that our communication with customers across email, responses to tickets, static help articles, and video content conveyed the companies brand. The team liked this idea, so as a group,
we established a list of 5–7 values that we felt embodied the Virtu brand
, especially through a customer success lens.
Some of the most notable values were,
"Security first"
and
"Apologize for the problem, not the product,"
which epitomized Virtru's role as a leader in data privacy and the sheer level of pride the team has for the product, even when it doesn't work as expected. I also am a huge fan of
Mailchimp's Content Style Guide
, a document I frequently used as a reference when developing content rules for more micro level grammatical and vocabulary.
Using the resulting Virtru Style Guide as a rulebook when revising content, our support communication started to sound a lot more like the Virtru our customers know and love.
Before
"To notify your recipients that you are sending them an email using Virtru encryption, send them the following templated message."
After
"While we try to make the recipient experience as straightforward as possible for both users with and without Virtru installed, we understand that you may want to give your recipients a heads up. For this reason, we've created the following templated message that you can send to help your recipients identify Virtru-encrypted messages."
Recap
Revisiting my hypotheses
- Is there any friction in the current process that affects the customer experience? What changes could be made to make the process more valuable or efficient for the both the customer and the Virtru team?
- Is the customer onboarding experience inhibiting admins and end users from setting up and maintaining Virtru?
- Does the support experience reduce the headache or struggle of troubleshooting problems or does it create a different type of stress?
Looking back at the first hypotheses, there were certainly several points of friction that were impacting customer experience.
While more information would have been necessary to support the hypothesis that the customer and/or support experiences were inhibiting people from setting up Virtru and troubleshooting, the process certainly did not provide the most straightforward path.
Through understanding that different types of users possess unique needs in regards to support from Virtru, we realized that the formality of the process was in fact creating a headache for users that sought to resolve issues on their own.
By giving more autonomy to the user both during the onboarding process through the introduction of a more robust how-to PDF, as well as through beefing up our self-serve Help Center content, we were able to make both processes (onboarding and support) more efficient for both Virtru and the customer.
Looking forward
Keeping automation in mind
While I did mock up what a few processes could look like if the engineering team were to automate them,
I think that one of my greatest needs going forward is to design with automation in mind.
To me, this either means designing processes or experiences that are already automated, or at least ones that can easily adapt to automation. Customer support is a tricky game, as speed and quality matter most, but a a level of humanity definitely still remains important. I can foresee many of the activities that CSMs and support agents perform being replaced by automation in the near future, in the forms of chatbots. (Zendesk and Intercom both offer chat bots for support activities.)
Engage with other types of users
While I did get to talk to a lot of point people at Virtru's customer organizations,
I wish that I could have seen a broader spectrum of end-users across the multiple industries and use-cases.
With the different SKUs Virtru offers, even things such as microcopy differences across the various products can yield drastically different results for each demographic. Virtru was working on performing more customer surveys and A/B testing over the course of my internship, two skills I hope to take advantage of in expanding my engagement with more types of users in the future.
Iterate. Iterate. Iterate.
While my time on this project was filled with lots of whiteboarding and dozens of drafts of help content articles,
I still think that I can improve on my ability to rapidly iterate in whatever I am doing
. I am a big proponent of the "fail early, fail often" mindset, and I feel that I need to stay true to that philosophy regardless of what type of project I am working on.
Get more feedback
Due to the short-term nature of my internship, I was unable to see a ton of the long-term impacts my design choices had on the Virtru customer experience. While I was able to get a ton of in-person feedback from the Virtru team and data-driven feedback through various metrics, I wrapped up the project without a ton of input from the actual end-users.
Going forward, I would like to focus on baking-in processes that allow me to get real-time and frequent user feedback, as it only makes the experiences create stronger.​​​​​​​